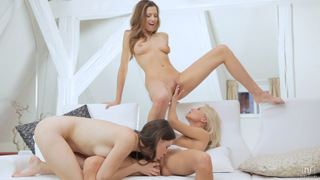 Nubile Films – Menage A Trois featuring Grace Hartley, Evfrat Mai, Xenia

Added on: 04/26/2013
Description:
Brunettes Evfrat Mai and Xenia are in the midst of a passionate make-out session when they are accompanied by their mutual lover Grace Hartley. The blonde is welcomed with open arms to take her place in between the others.
Kissing their way down Grace's body, Xenia and Evfrat relieve their woman of her panties and apply their fingers and tongues to Grace's wet bald cunt with sensual pleasure as their goal. Xenia eventually works her way back up Grace's body to tease and suckle her bucking tits. Together, the excited brunettes bring incredible pleasure to their woman.
Switching things up, Evfrat moves up to balance her lush ass on the edge of the couch and parts her thighs to expose her creamy wet slit. Grace settles herself underneath Evfrat, sliding her hands up her lover's inner thighs to reach the softness of her drenched folds. Meanwhile, Xenia slides in between Grace's parted thighs and laps her soft tongue up and down her sweet twat.
Evfrat soon trades places with Xenia, giving pleasure and allowing her friend to receive from Grace. The trio continues on without missing a beat, with both brunettes eventually returning their attention to Grace until the blonde dissolves in groans and exquisite shudders.
Next it is Xenia's turn to enjoy the attention of both of her lovers. With her thighs parted there is plenty of room for both Evfrat and Grace to explore her tight sheath with their fingers as massaging her tender clit.
They soon resume their train of pleasure, with Grace working her magic fingers deep within Xenia's cunt and Xenia eagerly lapping at Evfrat's folds.
Xenia is soon overcome with the passion that the trio of girls share, whimpering and gasping as her climax trembles through her as Evfrat holds her close.
With only Evfrat missing that great sensation, Grace and Xenia know that they cannot leave their lover out. Grace supports the brunette as the girl straddles Xenia's face, moaning as Xenia sweeps her talented tongue along her sopping slit. Always willing to help, Grace leans forward to latch on to her woman's sensitive hard nipples.
When a little bit more stimulation is needed to bring Evfrat over the edge, her sex partners help her roll to her knees and lift her bottom high in the air to give them unrestricted access to her needy hole. The deep penetration they are able to give their woman quickly has Evfrat screaming her pleasure .
Webmasters: Join the Nubile Films Adult Affiliate Program